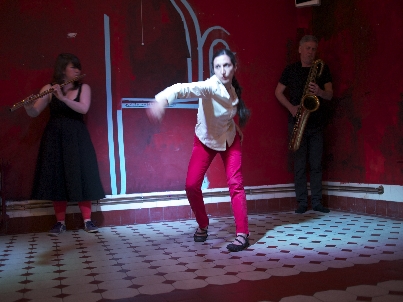 April 30 Sunday with Manuela Tessi and Friederike Wendorf
Bodlabot studio OT301 Overtoom 301 Amsterdam (first floor of the building)

Music Dance
This workshop is aimed for dancers and musicians who have an interest in the study and practice of sound and movement in real-time composition with a curiosity to discover an intuitive organization of the body in space with sound. When relating to live sound, we need to take into consideration how it is altering the state of the body and the mind. We need to allow for raw materials to change moment to moment. As dancers, we need to be extremely alert, to listen to each change, shift of our state of mind and quickly create the material in a playful arena with the sound in space. In this workshops we start with exercises that train the awareness of presence and the listening. We address dancers and musicians the same way, being in this work first of all performers. We will then explore different tones of physicality and qualities of sound, refining the readability of intention in sound and movement, to be able to commmunicate with the material being generated. We invite the participants to compose material on the spot by letting it emerge from a sense of urgency, a need and a passion to give form to the ever fleeting moment. We encourage each performer to be engaged in their own personal research of physicality of sound and movement, with curiosity and playfulness. In the workshop we will make several pieces, real time compositions of sound and movement as an ensemble: in composing the pieces we will study how to be aware of time passing, tracking our feelings and responses to each other's media, imagining the potential of the piece as it is being developed, getting to a fine tuning with each other that is close to mind reading.
We  (Manuela and Friederike) met in Amsterdam working and studying with Katie Duck, and have been collaborating in Berlin since 2014. Noticing the interest and potential in the local artists community of Berlin, we created MusikTanzNullDreißig, a platform aimed at fostering the collaboration of dance and music in performance. Within this initiative we have been curating several performances of instantly composed dance and music in various locations in Berlin, (Club der Polnischen Versager, Dock 11, Tatwerk, Greenhouse a.o.) inviting local and international dancers and musicians to perform with us. Next to performances we also created regular practice sessions, to open the research and the discussion on the relationship music-dance. This Berlin project runs parallel with the Amsterdam series Music Dance 301, curated by Manuela at cultural centre OT301. This workshop will be a platform for both musicians and dancers to meet and begin to collaborate. It is essential, in the times we are living in, to contribute to the production of art by creating platforms and gathering crowds to experience the work. Those platforms provide opportunity for our performances and the work of peers, allowing continuity in the research. We believe that creativity needs to be promoted bottom-up, without waiting for permission from funding bodies and established venues, rather by getting hands dirty, digging into the material.
CV- Manuela Tessi
I am a dancer, teacher and maker based in Amsterdam and Berlin. I hold a degree in Modern Dance from the Theater school in Amsterdam and have spent the last several years performing and touring my work. Live music, whether composed or improvised, has played an important role in my performance work in the last 13 years. Since 2004 I have studied and worked with Katie Duck, who has been one of my greatest creative influences alongside the many dancers who have inspired her direction in work. I did an apprenticeship with Magpie Music Dance Company in 2007, that lead to several ongoing collaborations, in particular with Makiko Ito, artistic director of Wonderland collective, and Miri Lee. I recently performed two solo works created specifically for me by Vincent Cacialano and Paul Estabrook. I have an interest in movement prior to dance as a formal language, in my movement research I include a scientific study of movement (somatic and kinesiology). I believe that content and functionality provide form: I work with movement principles and qualities and those are the raw materials to compose with. I look for sensuousness and embodiment in dance, often referring to kinesthetic empathy, how is the movement being read by the spectator not solely with the eyes and intellect, but perceived on a visceral level. I collaborated over five years with a dancer and researcher specialized in Southern Italian traditional dance and music. I studied and performed with her, learning some traditional forms of dance ( the Pizzica from Puglia and Tammurriata from Campania) and I did a study on the Tarantism, a complex phenomenon that has its roots in the pre christian pagan traditions, involving a form of mental illness-state of possession and its cure through music (always played live) and frantic dance. This experience changed the way I approach contemporary forms of dance and music, making me understand the cathartic function of the art form, and the importance of the live interaction of the two. I curate two platforms for dance and live music performance: the series Music Dance 301, at the cultural center OT301 in Amsterdam, and Musiktanznulldreissig, its sister project, taking place in various Berlin venues, in collaboration with flutist Friederike Wendorf. I find essential at the time we live in right now to contribute to the production of art creating platforms and gathering crowds to experience the work. Those platforms provide opportunity for my own performances and the work of peers, allowing continuity in the research. I believe that creativity needs to be promoted bottom-up, without waiting for permission from funding bodies and established venues, rather by getting hands dirty, digging into the material.
CV – Friederike Wendorf, Flute
I am a freelance musician and flute teacher in Berlin.
My artistic focus lies in improvisation, particularly the relationship between sound and movement. My tools for exploration are my own moving body and the flute. In addition to this, my sound sources also extend to the deeper and warmer soundworlds of the alto and bass flutes. I am an active member of the free improvisation scene in Berlin, where I work with musicians and dancers. One of my major projects is MusikTanzNullDreißig, which I curate with dancer Manuela Tessi. Born and raised in Germany, I began my classcial music education at the age of five. My interest in movement and improvisation led me to explore the different avenues of ballett and jazz music. I went on to take classes in a diverse range of movement such as modern dance, tango, salsa, acrobatics and yoga. I studied flute at the conservatoires in Berlin, Cologne and Amsterdam where I obtained degrees in classical music and jazz. During my studies in Amsterdam I grew dissatisfied with the traditional approaches to improvisation in jazz. The rules seemed too strict, the genre too narrow. I connected with the dance school in Amsterdam and embarked upon the first free improvisation project with dancers. From then on I became part of the free improvisation scene in Amsterdam and attended the summercourse with Katie Duck and Alfredo Genovesi (guitar) for several years. In 2015 I taught at Katie's summercourse. What I enjoy about free improvisation is the playfulness and the freedom, that we have as performers. Decisions are made in real-time, with no room for discussions or other alternatives. For me the process of free improvisation in music is an honest way of performing. It doesn't work musically unless you really listen and connect to the other players and performers. I like to exist in the state of mind required in order to compose a coherent piece on the spot; being aware of the present, recording the past and proposing the future simultaneously. The fact that the performers will not know what the piece is until it is done, along with all the unpredicatable moments and missunderstandings make this way of performing seem fresh and current to me. I see the dancers as inaudible sounds that move visibly through space. They become not only another instrument, but they also add a dimension of space to the piece, which feeds into my playing and my movement.
Sunday April 30 13:00-17:00 four hours per day / €40 / Maximum 12 participants. Register: lunamatisse@yahoo.it