Multi-disciplinary workshops Friday April 7 Music/Performance. Saturday April 8 and 9 Light/Performance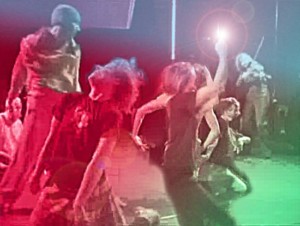 Dock 11 Kastanienallee 79, 10435 Berlin.
April 7 Friday Katie Duck, and Hilary Jeffery Music/Performance 11:00-15:00.

I would like to share my passion for collaborating with text and body with live sound.  I have worked with composers, bands and improvisation musicians for the past 30 years challenged to articulate, objectify yet remain engaged tracking music and navigating how sonic captures space (it doesn't love you back). The first two hours I will use games, exercises and sessions with my selected music studies (recorded). The second two hours will be with musician Hilary Jeffery in sessions with the performers.  A microphone will be available for the performers to experiment with text or sound.

April 8 and 9 Saturday and Sunday Emese Csornai and Katie Duck  Light / Performance 11:00-15:00. Dock 11 main space (theater).

This workshop is to encourage dancers, choreographers and performers to bring their practice with real time performance towards a meaningful collaboration with light designer.  It will include discussions with Emese about the language and technical options with light design,  sessions in performance with light design practice; viewing from the public view point, sitting with Emese on the board or in physical creations with light in the theater space. Feedback and discussions will revolve around shifts, effects and tension that are interactive between light, body, performance.
Register:  For one day, two days or three days (full weekend). You can combine 2 days with the Music/performance workshop Friday and one day Saturday or Sunday Light/performance workshop or 2 days Light/performance workshop. €70 One day, €120 Two days, €150 the full weekend. Register: katie@katieduck.com  or go to CONTACT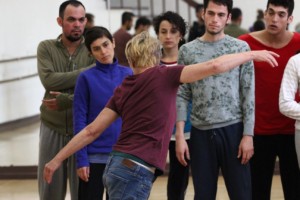 Katie Duck  Bio:
I am a performer maker and teacher since the early 1970's. I have placed improvisation as an intricate element in how to compose and perform with musicians, dancers and actors internationally for 30 years. My career has included independent teaching, university teaching, set choreography's, structured improvisations, music and dance real time performances and live streaming international performances. My collaborations have been with musicians, visual artists, lighting designers, dancers, actors and comedians. I have initiated courses, workshops, festivals and monthly performance series in her three bases Italy, England and Holland. I have led dance companies, dance/music companies,  written text for my  performances as well as critical articles. I am determined to continue my research in theater, music, dance, text and performance. Alongside vocational studies, I have conducted research in social studies, cultural studies and brain studies. I believe that my research must not be validated by academic speak alone but rather by my insistence to take part in my chosen practice of live theater in no matter what country or period of time I am living in.
Hilary Jeffery BIO:
I have been working as a musician since the early '90s and describes himself as a "desert trombonist" after my journey to the Sahara in 1990, accompanied by a trombone. I believe that the sense of silent-space experienced during this desert journey is a central and sustaining influence for my music. As a musician my aim is to share this experience, creating inner-space for listeners and fellow musicians to explore.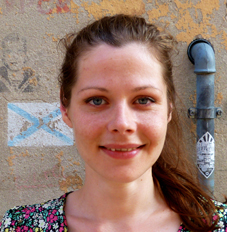 Emese Csornai   BIO:
I am a theatre professional with a visual art background mainly specialised in installation, performance and light design. I studied architecture in Budapest and got a bachelor of audiovisual arts at the Gerrit Rietveld Academy in Amsterdam in 2009. Having moved from Budapest to Amsterdam, I had a fascination for layering, light and shadow which led me first to shadow installations and later, through a series of dance-related installations and a light design practice and, with an interest in composition, 3D and subtractive colour scales. This research started my study in theatre light design. Now I am since 9 years working in theater and with dance groups, and creating pieces, giving workshops on the moving body in relation to space.I am currently researching the psychological aspects of space and representation of different spaces. I view a performance with an eye for the space versus the less sophisticated task of lighting figures in space. My work demands an awareness from the performer to deal with new visual imperatives as an important element for how the piece evolves in real time. I am sharing the responsibility of composing giving a rich texture to a performance that allows for the performers to broaden their understanding of possibilities.

Please follow the link on their names for further information about the artist.
Payment made out to Stichting Magpie / Bank: ING Amsterdam / Bank address – Kinkerstraat 130a, 1053EE, Amsterdam / Bank account number (same as the IBAN code): NL22INGB0009476524 / BIC: INGBNL2A