March 11-12 Saturday and Sunday

"Improvisation in my performances is not the antithesis of choreography or composition; it is how I make art work out of practice both in the studio setting and the newness of real time performance. My performances are about the experience of being there, you are participating in the event and thus, in a sense, the work". My practice is a reflection of what I believe art in the theater can only be; live.  My exhibition of the body in theater, movement or music is a reflection of the unedited human condition with an aim to remind public's that they indeed have a body. I have developed a manifesto in how I conduct research, rehearsal processes, and workshops towards performances. It excludes aspects of dance, theater and music styles in order to include my research in contemporary brain studies. I create performances offering my body, mind and presence in a sound driven space.

 "Cage" (a solo with invitations for collaborations)
We view distressing events daily and are able to tuck this in a pocket of our consciousness until eventually panic attach grips our spirits and anything social seems beyond reason. The human condition to feel what we see and hear is numbed, boxed away in the normal. Emotions are messy. "CAGE" investigates how the mind is held back by a social inability to release emotions. Emotions are key to intellectual wisdom in how we can accept and respond day to day to the variable of expressions in human nature.  Language is frozen by sport metaphors to qualify equal rights in a delusional world of economic stability. In this landscape, showing your emotions, vulnerability, make you a looser. Change can happen if we are prepared to allow for emotions to be placed as paramount in intellectual discourse.
I was inspired to create "Cage" when I discovered a black dress that I could physically transform female images. I added a chair, three wigs. I observed women in discussions to write my text, sounds and musical interludes to formulate sound tracks which helped me to evolve the movement area I could explore.
My text and movement material are Non narrative. My words are placed in and around my sound tracks and objects that I discover in each location. CAGE is interactive with public, and then placed back into the theater space in order to engage and re arrange the public's position as witnesses.

I play "CAGE" in diverse collaboration where ever I travel; musicians, and performance artists. For the performance in Bilbao, Spain at La Fundicion, I have Invited Carla Roisin Behal to work with me as a performance artist and translator of my text from English to Spanish. Carla is invited to bring to CAGE images and text she wishes to reveal.
 La Fundicion, Francesc Macià, 1-3 48014 BILBAO, March 11-12, Saturday 20:00 – Sunday 19:00, reservations: Tel 944 753 327
I am a performer maker and teacher since the early 1970's. I have placed improvisation as an intricate element in how to compose and perform with musicians, dancers and actors internationally for 30 years. I am a feminist traveling through the 60's to present day as both witness and participant. My career has included independent teaching, university teaching, set choreography's, structured improvisations, music-dance real time performances and live streaming international performances. I have initiated courses, workshops, festivals and monthly performance series in her three bases Italy, England and Holland. I have led a physical dance company, dance music company, written text for my  performances as well as critical articles. I am determined to continue my research in music theater, combining sound, text and movement. I believe that my research must not be validated by academic speak alone but rather by my insistence to take part in my chosen practice of live theater in no matter what country or period of time I am living in.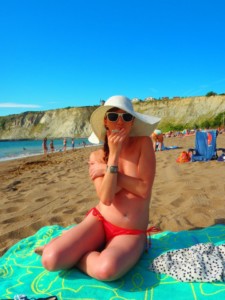 Carla Roisin Behal
I am a theatre maker, dancer and actress born in Bilbao, Spain. I graduated from the Mime Department (AHK, Amsterdam) in 2014. I create multidisciplinary performances, including dance/mime, music and visual art. Integrating concepts of magic realism and neuron science to create the ´´supervisible´´, my work focuses on body versus image, beauty versus darkness, and presence. The relationship with the audience involves strong visual and sensorial impulses. "The magic of theater as an attempt to understand the world, to dream and hope. One body creating all the illusions. And silence was the first contact, the language of the body, the language of Babel".
Please follow the links on the names to find more information about the artists.
Film Backdrop for CAGE by Katie Duck. With sound track mix by Katie Duck. Sound sources Alfredo Genovesi, James Blake and Sia.