Music Dance Course- Summer 2017 Mary Oliver (music) and Manuela Tessi (dance). July 24 to August 3 18:00 to 21:00 Monday to Thursday main space Studio 1.
No previous experience of language for music for dancers or dance for musicians is required. Maximum number of participants: 15 per week. It is suggested to join for one whole week or the entire course, however participation to single days is possible. €35 per day / €130 per week / €260 two weeks
Music Dance Course- Summer 2017 
This workshop is aimed for dancers and musicians who have an interest in the study and practice of sound and movement in real-time composition with a curiosity to discover an intuitive organization of the body in space with sound. We have been actively investigating how dancers and musicians can collectively create spontaneous choreography and composition through improvisation: existing as one study rather than separate entities. The practice of dance and music is not new. It has existed within folk traditional dances and many non-western cultures for centuries. However, we feel there is an urgency to re examine how classical and contemporary western music/dance practices have evolved.
I am a dancer based in Amsterdam and partially in Berlin. I became interested in working with live music during my final two years of study at the Theater school in Amsterdam. Since then, live music, whether composed or improvised, has played a central role in my performance work. I was impressed by the work artists like Anne Teresa de Keersmaeker (Rosas), because of how they chose and organized their music with their choreography. This led me to conduct several projects as a choreographer with composers from the conservatory in Amsterdam. I discovered strategies used by music composers and applied this to choreography. I came into this work critical in the way most dancer/choreographers used music on stage which promoted my curiosity to continue my research aiming for a deep connection of movement with sound with a vision for performance that, as time arts, are inseparable. Since 2004 I studied and worked with Katie Duck as an apprentice with Magpie and then as a performer and collaborator.  I have participated with several ongoing collaborations with dancers who also apprenticed with Magpie, Makiko Ito and Miri Lee. I have an interest in functional movement as a precursor to dance. In my vision of dance, content and functionality provide form. Movement principles and qualities are the raw materials to create compositions. I strive to guide the students to connect to that raw material and provide strategies for how you can choose to arrange the body in space. When relating to live sound, we need to take into consideration how it is altering the state of the body and the mind.  We need to allow for raw materials to change moment to moment. As dancers, we need to be extremely alert, to listen to each change, shift of our state of mind and quickly create the material in a playful arena with the sound in space. Presently, I curate two platforms for dance and live music performance: Music Dance 301, at the cultural center OT301, Amsterdam, and Musiktanznulldreissig, in various Berlin venues.  I find it essential, in the times we are living in, to contribute to the production of art by creating platforms and gathering crowds to experience the work. These platforms provide an opportunity for my own performances as well as my peers, offering continuity in the research. I believe that creativity needs to be promoted bottom-up, getting your hands dirty, digging into the material without waiting for permission from public funding or any established venues. 

My motivation for this workshop draws from our desire to deepen the study on how dance and music interact during the process of live composition. As the dancers are becoming more aware of what they are hearing musically, the musicians need to use their eye to track how the dancers are moving in the space. How is the music effected by what we see? How are the dancers' use of rhythm, phrasing and dynamics reflected and incorporated into the music? These are areas of study and discussions that evolve from session to session, performance to performance, piece to piece. The challenge as dancers and musicians is to keep tension in the room, while at the same time maintaining a relaxed state that allows creativity to flow. Dancers and musicians are addressed in the same way, considering everyone as part of the same "band" in which they all "play". We consider everyone to be first of all a performer, thus the study of presence is very important. We will work with exercises that explore relationships between thought, movement and presence in the immediate environment. By promoting a greater awareness of sensory input, the performer becomes better equipped to interact with their internal and external impulses. For example, one exercise is a musician playing while a dancer is touching her/him somewhere on the body. The question will be asked "How does this change the development of the music"? We will look for the expressive power of the visceral , the guts, the non intellectual, the material, the body, in combination with clarity and a sense for structure. We see analysis and intuition not as antithetical but supporting each other and essential for creativity. The warm up exercises are aimed to increase awareness of the space between dancers and musicians. Space is the common ground in which the movement and music is taking place, therefore it is important to clarify the fundamentals for how to build a common understanding for how to play in space. The study of space relates to the physicality of the sound, acoustics. In our work, musicians rarely play standing in one spot unless it is a choice. They are encouraged to shift spaces, allowing sound to resonate differently. We will experiment with proximity and distance, how the actual physical space in which we play modifies the perception of sound and how the arrangement of bodies in space are affecting the composition. An important objective of the workshop is to study the language that dance and musicians use as a common ground and to question how do specific terminologies apply to one or the others artistic medium and what are the merging points. Every session starts with dancers and musicians playing together, however at times Mary will work separately with dancers and Manuela with musicians, giving specific practical assignments with feedback about the reading of each others language. We will point out the composition elements, such as phrasing, timing, pulse, overall structure of the piece, character, movement/sound quality, with references to styles and genres, and encourage the participants to articulate observations through the short feedback sessions. We believe in the importance of observation as a tool for change. At the end of each day participants will create instant compositions with sound and movement practicing looking and giving each other feedback. Parameters for the feedback will be body, space and movement-sound vocabulary. The participants will be encouraged to create pieces to present within the Freakatoni Witchy Weekends, performances. This study will challenge the question : Are dancers supposed to follow the music, or are musicians supposed to play to the dancers movements? This question implies a relationship of interdependence and hierarchy. In this workshop we will encourage a constant dialogue between sound and movement with a complex, multi layered and fluid approach to the relationship between the two forms.                                                                                                Photo Brian Crawford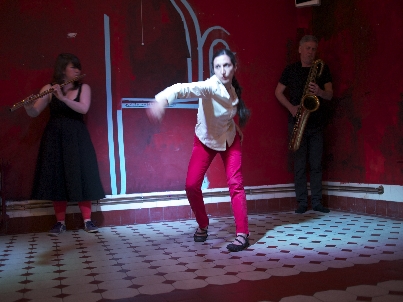 CV- Manuela Tessi
I am a dancer, teacher and maker based in Amsterdam and Berlin. I hold a degree in Modern Dance from the Theater school in Amsterdam and have spent the last several years performing and touring my work. Live music, whether composed or improvised, has played an important role in my performance work in the last 13 years. Since 2004 I have studied and worked with Katie Duck, who has been one of my greatest creative influences alongside the many dancers who have inspired her direction in work. I did an apprenticeship with Magpie Music Dance Company in 2007, that lead to several ongoing collaborations, in particular with Makiko Ito, artistic director of Wonderland collective, and Miri Lee. I recently performed two solo works created specifically for me by Vincent Cacialano and Paul Estabrook. I have an interest in movement prior to dance as a formal language, in my movement research I include a scientific study of movement (somatic and kinesiology). I believe that content and functionality provide form: I work with movement principles and qualities and those are the raw materials to compose with. I look for sensuousness and embodiment in dance, often referring to kinesthetic empathy, how is the movement being read by the spectator not solely with the eyes and intellect, but perceived on a visceral level. I collaborated over five years with a dancer and researcher specialized in Southern Italian traditional dance and music. I studied and performed with her, learning some traditional forms of dance ( the Pizzica from Puglia and Tammurriata from Campania) and I did a study on the Tarantism, a complex phenomenon that has its roots in the pre christian pagan traditions, involving a form of mental illness-state of possession and its cure through music (always played live) and frantic dance. This experience changed the way I approach contemporary forms of dance and music, making me understand the cathartic function of the art form, and the importance of the live interaction of the two. I curate two platforms for dance and live music performance: the series Music Dance 301, at the cultural center OT301 in Amsterdam, and Musiktanznulldreissig, its sister project, taking place in various Berlin venues, in collaboration with flutist Friederike Wendorf. I find essential at the time we live in right now to contribute to the production of art creating platforms and gathering crowds to experience the work. Those platforms provide opportunity for my own performances and the work of peers, allowing continuity in the research. I believe that creativity needs to be promoted bottom-up, without waiting for permission from funding bodies and established venues, rather by getting hands dirty, digging into the material.
Musicians who will be leading the workshop with Manuela Tessi:
Week 1: 18:00-21:00 Monday 24th:  Kagi Park, electronics / Tuesday 25th: Kagi Park, electronics / Wednesday 26th:Robbert van Hulzen, drums / Thursday 28th : Nina Hitz, cello

Week 2: 18:00-21:00 Monday 31st: Noortje Kohne, viola / Tuesday 1st : Wilbert de Joode, doublebass  / Wednesday 2nd : Wilbert de Joode, doublebass  / Thursday 3rd : Camille Verhaak, clarinet