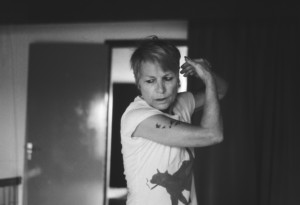 Composition/ Performance / Improvisation / Body
Katie Duck has been investigating theatre, dance and music for live performance since the mid 70's. Based in Italy, England and Amsterdam, she has toured through out the world conducting her workshops, solo performances and devised group works.
In her workshops, she takes a microscopic view on the role improvisation plays in the creative processes of composition for live performance combining her background in movement, performance, music and sound with a curiosity for advances in brain/mind studies. Katie guides the dancers and performers through physical exercises that highlight how the eyes and ears affect movement choices and developmental brain studies about "why we learn to walk". She extends the workshop toward improvisation sessions by setting a fictional front in the studio space and then declaring this as a platform to choose pause, flow or exit. This platform highlights how the limit of these three choices can already provide the frame for a composition to take place, and that misunderstanding, coincidence, live time, interactivity, messiness, emotions, intuition and inspiration are basic materials in a creative process. These raw materials are integrated with the combined fact that everyone in the workshop group can make a choice.
Towards a causal performance – Katie uses a theme as the spine for her scores and transforms the theater with her lighting and music design. She creates a situation where everyone is in deep process of the creation with an aim to insure that the event is readable for public's and yet leave each of the performers with a unique experience that they can use in what ever way is useful for their creative processes.
For Performers/Dancers/actors/singers/musicians. 10:00-17:00 / €100 for two days / €60 for one day. Register by email: katie@katieduck.com / or go to CONTACT. Limited to 25 participants per day. Grand Studio , 29 rue de Menin,  B-1080 Bruxelles, Belgique

February 5 Sunday 21:00 €8. Grand Studio , 29 rue de Menin,  B-1080 Bruxelles, Belgique. You need to make reservations. There is limited seating at the Grand studio. Go to: bluezoneperformances@gmail.com.
912 BC. Valuable bronze, tin and precious stone have been stolen. The land is hit by rabbit plague. The king is campaigning security and trading horses and thus his people are left alone in his courtyard. This is a historic piece.