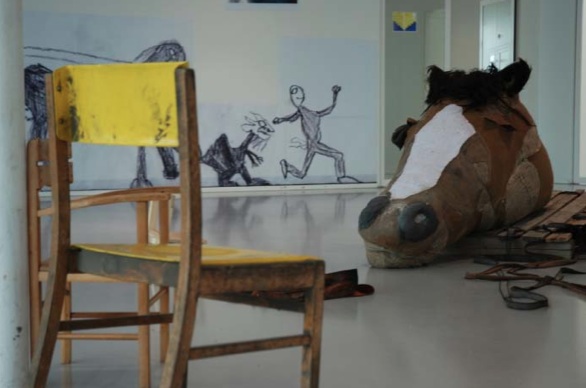 July 29 Saturday Melvin Fraenk Improvisation/hip hop workshop 11:00-17:00, 6 hours studio 1. This workshop leads towards a  Freakatoni Witchy Weekend performance that evening. Main space studio 1 €40 / €30 for anyone who is in the TM or MD workshops.
My experimental Movement is a combination of Hip Hop, Jazz and Modern dance performed with music. Music in my dancing, plays an important role. The workshop takes place on a Saturday for six hours leading towards a Freakatoni Witchy weekend event that evening. I will introduce improvisation strategies alongside movement studies I have developed combining my experiences and backgrounds with lessons, choreography and performance. By the end of the six hour workshop, we will have developed a loose structure for the event that evening. I am from a self taught, vocational background combined with an academic degree I received at the Amsterdam School of the Arts (SNDO/JAZZ). The aim is to support you as a dancer to feel that what you have learnt and experienced in the performance will promote growth.
CV – Born and raised in Amsterdam, studied and performed street dance since he was a child, attended the Hooge School voor de Kunsten (SNDO 2004-8) and is now a professional teacher for the Jazz and Teachers departments at the Theatre school Amsterdam and youth organizations in Amsterdam. Melvin creates choreography's for rappers and pop artists from Amsterdam and Holland. He has toured to China and New York and continues to create contacts who collide in choreography, workshops and classes with urban and contemporary dance. €10 per day for anyone on the summer course / €15 per day for anyone outside the summer course. Dance/improvisation workshop:  (leads towards a Freakatoni withcy weekend event) Melvin has a deep interests in combining his education of street dance with contemporary models of dance using improvisation as a means to explore and mix styles. As part of his stage work in the SNDO, he was able to travel, perform and teach in China (Beijing and Shanghai) and New York City. Melvin teaches regularly in Amsterdam and is a driving force for young dancers who are interested street dance activities with a creative edge. His workshops mix urban dance with contemporary dance ideas. He influences us all to integrate dance forms in how it is we think of dancing and feel about music.
---
July 30 Sunday Miri Lee Improvisation workshop – Imprography 14:00-18:00 4 hours studio 1. This workshop leads towards a Freakatoni Witchy Weekend in the following weekend. Main space Studio 1 €40 / €30 for anyone who is in the TM or MD workshops. Imprography 'Imprography' is the title I am currently using to represent my research in composition. Imprography is the way I wish to describe constant physical writing. I use improvisation to tone an insight of body with an alert intuition. Through my own experiences in improvisation performance, I developed a methodology that supports the performer in how they are able to consider their choices whilst under the pressure of real-time performance. I have exercises that support being active in the context of the moment while maintaining clarity with spatial choices. This needs to happen with an efficacy that is consequential of the sound, light, public and all of the performers in the group. I integrate music, either live or recorded, by musicians whom I have worked with. As makers, we will explore how we can transform our personal role in a performance whilst executing 'rational' and clear choices in a potentially hyper-stimulated environment. Through the use of improvisation as a practice, I place an emphasis on the ability to develop for each of the dancer's way to conduct research and to place that process towards real time performance. I wish for the dancer to explore possibilities from their personal artistic motifs by placing their creative ideas and emotions at the core of their artwork. I wish to encourage the dancer to develop their own unique style and to gain equal confidence as both performer and/or maker. My background, from traditional Korean dance, contains a use of controlled breathing that allows for the dancer to be calm between sculptural pause and dynamic flow. Controlled breathing guides the dancer in a particular way from the core of the body to the spine and limb. The essence of this workshop, is in the visualizing of the invisible; physical drawing in the air, the hidden forms in the space and giving instant shape to a thought generated by the perception of the movement. Imprography include physical training, to filter minimal expression as an implied pattern. These patterns evolve into complex movement variations that resonate spontaneous and fluent expression. The training process I use enhances an ability to explore and expand self-direction, quickness of response and a sharpness of execution for making choices. Dancers will be placed in an architectural collaboration, drawing on one's voluntary artistic participation, building skills out of one's own creation in a group composition with an inspiration to react body to body, widening their visual perspective with their eye.
CV – I am a choreographer, contemporary dancer and movement teacher for 15 years and have been working in the field of performance art internationally Since I moved to Netherlands in 2008. I have been performing numerous improvisation and theater performances with Katie Duck and dancers such as; Julyen Hamilton, Jack Gallagher, Kenzo Kusuda, Vincent Cacalano, Lily Kiara and many others in across Europe, US, Brazil and Korea. I collaborate a substantial working relationships with theater maker Juliean Hetzel and visual artist, Jennifer Tee based on performance work with visual installations in gallery, museum, manifesta and created many solo pieces in varied contexts and international locations and 'Meta body' in European project which is collaborated with group of 'Steim' in Amsterdam and 'Dablab' in London. I choreographed 'Poetry' and performed with Anani Sanouvie in Julidans festival 2011, 'Lucht' in 'Dans in the wereld' in Muiderpoort theater in 2012 and later 'Red Room', 'Ban of Ritual', 'Solid Seeing' in different venues in Netherlands. Since 2009, I have been working improvisation summer course; directed by Katie Duck as a movement teacher and artistic advisor, and taught a movement research at the school for new dance department (SNDO) as a guest teacher in 2016. Recently, I have researched to develop my own methods, 'Imprography' is the title to represent in choreographic methodology to execute for performance in live time performance. detailed CV: http://mirilee.nl/CV
---
July 30 Sunday Noortje Kohne  Alexander technique 11:00-13:00 2 hours Bodlabot studio €15 / free of charge for anyone who is in the Music Theater workshop for the full four weeks.
August  7 Monday Noortje Kohne  Alexander technique 18:00-20:00 2 hours Bodlabot studio €15 / free of charge for anyone who is in the Music Theater workshop for the full four weeks.
Individual lesson given through out the summer course €20 / 1 lesson free of charge for anyone in the Music Theater workshop for the full four weeks.
The Alexander lesson consists of observation and simple movement lending clarity and understanding to how you function as a unit. The teacher gives the student tools to undo hindering habits and access natural coordination. Freedom and ease follow.  An example of simple activity is the work using a chair – how to sit, get up, stand, and get back into the chair. While the teacher guides the student verbally she applies her skills with a subtle touch allowing the student to experience hands-on direction. In the Alexander workshop we will explore the spines integration with the rest of the body. Special attention will be given at the relationships of the hips and the legs.
CV – I received my Alexander training at the ATON, in Amstelveen, under the direction of Arie Jan Hoorweg. Since 2004 I have been teaching there on a regular basis. I run my own practice in Amsterdam and at the Gimsel Academy in Rotterdam. My practice includes workshops at the conservatory and dance schools. Noortje is STAT certified and is a member of Nevlat. Also a professional musician, I graduated in 1997 as a violist from the Sweelink Conservatorium in Amsterdam. I have performed with various music ensembles, dance and theatre groups, such as Insomnia, 't Barre Land, Orkater, Scapino Ballet, The Metropole Orchestra, Lysn, Malte Schillers Red Balloon. I have trained improvisation with Katie Duck and Alfredo Genovesi and have been teaching Alexander technique at the Summer workshop since 2011.
---
August 5 Saturday 11:00 to 15:00 studio 1 Tashi Iwaoka Improvisation workshop towards a Freakatoni event that evening €40 / €30 for anyone who is in the TM or MD workshops.
OCS composition workshop/laboratory This workshop/laboratory is the continuation of the last two projects that took place in the Improvisation Summer Course in 2015 and 2016. My vision of OCS (organised chaos) composition is based on a twofold state of anything-goes-and-individual-responsibility in the space. This state is indeed a manifold. Contradictions and illogic are welcomed in the act of doing in OCS. Yet, to claim it as a certain type of compositional decision, it has to have a sense of clarity in each one's choice/shifting state of being. All curious minded people are welcome to explore the construction of channelled uncontrollability. Its focus is not 'how well each of your skills (in dance, voice, acting, etc.) are executed' in the space, but it is rather 'how sharp one can choose to be in a dis/oriented space' that is in fact a skill.
CV – I am an Amsterdam based performance artist/choreographer/mover studied Contemporary Arts BA(Hons) at Nottingham Trent University (1997-2001 Nottingham UK), Dance and Choreography as a guest student at School for New Dance Development (2002-2003 Amsterdam NL) and Performance Research at DasArts  (2004-2007 Amsterdam NL). After my first Butoh experiences in 1997 with Kazuo Ohno and Kim Itoh in Japan, I practiced Butoh based bodywork for over 10 years. Currently I am practising Budo, Japanese martial arts, and working on finding the nucleus of human expression and connection, in relation to the movement skills I have learnt. One of the central driving forces for this is the attempt to fuse my oriental roots and Western perspectives to form a more proper view on 'being a human' in this world. I wish to disinter the universality in Eastern wisdom in order to help us understand what it is to be a human. I am one the founders of Ehkä-production, an international collective of independent performance and dance makers, based in Turku, Finland, with which I am still closely associated.
---
August 6 Sunday Vilbjorg Broch Voice and sound improvisation workshop 11:00-13:00 (2 hours) Bodlapot studio €20  / €15 for anyone who is in the TM or the MD workshops. This workshop will be an introduction to the voice in improvisation and will be especially aimed at dancers, though anyone is welcome. We will touch upon the following topics:  The voice in improvisation, Perspectives on developing the voice, Harmony and rhythm, Relation between musical form and technique, Intonation, Voice and language, Voice and movement. And we will end with a  performance presentation at the Freakatoni event the following weekend
CV – SNDO Amsterdam, Studied classical music approximately 12 years by coloratura soprano Marianne Blok, studied new voice techniques with various members of the Roy Hart Theatre, especially Enrique Pardo. I worked with theater and music in a wide range of forms during the past 30 years, spanning from improvised electro-acoustic music over object & text theatre to environmental installation events. A few key collaborations and projects are : Noise Maker's Fifes (BE), Songs Of Maldoror,  Henriette v Reesema, Yochem Hartz, Milou Veling, Anti-Delusion Mechanism, Yann Keller (DE), The Genetic Cabaret, Eugenix,  Gracehoper and the Sommerfool, Some day the Prince will stay at home – Machiavelli, Apokalypsis,  OOO-2012, Katie Duck, Telluric Signals, OKNO (BE), Raoul vd Weide (NL), YoYo (CZ).   For some projects I have produced costumes, objects and masks. I am (mostly) autodidact in mathematics, programming and electronics. €10 per day for anyone on the summer course / €15 per day for anyone outside the summer course.
---
August 6 Sunday Kenzo Kusuda Improvisation workshop Vitalizing the Invisible 14:00 to 18:00 4 hours studio 1 €40 / €30 for anyone who is in the TM or MD workshop The work of Japanese dancer/choreographer Kenzo Kusuda stems from a highly original imagination and aims for a communication with his audience precisely by finding a connection with their imaginative powers.  Inevitably linking with breathing, seeing, listening, touching and feeling, we will focus on the power of imagination as an anchor to our dancing.  In this workshop" Vitalizing the Invisible "………………….we aim to enhance the elasticity of our physical, actual body and our visionary, imaginary body which are intricately interwoven with each other, generating the magnetic, permeant presence and consequences through the performance.
CV – Holland-based Japanese choreographer / dancer Kenzo Kusuda reveals the poetry of the dancing body. Kusuda takes the audience to a world filled with imagination. His work is possessed of a mystic beauty that lies beyond the perception of our physical senses. Simply with the body's movement on an almost empty stage, he is able to reveal that which is the invisible. In the days when he was studying economics / business administration and worked part-time at the world biggest fish market in Tokyo, Kusuda became so fascinated by the dance performances he attended, that he decided to further explore this art form. Through his auto-didact learning process he developed a very personal and intense movement language that gained almost immediate recognition.
---
August 16 Wednesday Ellen Knops Light Improvisation 18:00-20:00 2 hours Main space studio 1 €20 / €15 for anyone who is in the TM or the MD workshops.
Workshop light in improvisation
Light changes the atmosphere and distorts how time is passing with each shift I make in the theatre space. It is a powerful aspect of how the public perceives tension and how dancers, performers and musicians are defined visually. In real time theatre, I am able to influence, and therefore, interact with the choices the performance artists are making. This is a specific study for performance artists in how they need to feel and read the light states and changes while in the process of executing their work. In in the workshop, I want to to do short improvisation sessions, allowing for the performance artists to be in the piece or out viewing, using different light states and shifts, so that the performance artists have an opportunity to experience the possibilities light can produce in real time. We will engage with feedback and discussion in the breaks and I will share some of the technical reality's of my work. As the person behind the light board, there is an obvious visual position I have that is located equally to the public view in a playing space. It is from this position I make choices. The aim in this workshop, is to guide the dancers towards recognising from their visual position, how light is affecting the, time, tension and atmosphere in the playing space and to discover an interactive relationship with me behind the board. The question we will address is; how does light influence real time performance?
CV – Started in 1989 in the music lighting but changed quickly to theatre and modern dance. In 1994 Katie Duck asked her to do the lights for her improvisation performance. All she said was "surprise me", so she did and continued doing.Since then they have been working together. Among other projects in Magpie Music and Dance Company, where there is an instant interaction between the disciplines dance ,light and music. In the past years Ellen improvised with many performers, such as David Zambrano, Michael Schumacher, Gonny Heggen, Nederlands danstheater 3, Katie Duck en Lily Kiara. In the work with Lily Kiara, in their almost organically growing collaboration, there is a very close interaction between lights and dance. They continue to develop their findings and always look for possibilities to stretch their ideas a little further. Ellen has been teaching workshops at the School for New Dance Development en Amsterdam, to share her vision that light can be played with as an autonomous element; light as movement, rather than a static aspect of the performance. Light can change the sense of space, time and atmosphere Back to main page Improvisation summer course 2016