1995-2005
Origins
MAGPIE was spearheaded by Katie Duck and was founded in Amsterdam in 1995 by dancers Eileen Stanley, Vincent Cacialono, Martin Sonderkamp, Sharon Smith and Masako Naguchi, light designer Ellen Knops and as music director (drummer) Michael Vatcher. Later Katie added dancer Michael Schumacher and changed her music director to Mary Oliver. MAGPIE was formed in direct response to a need the artists had to re-consider and re-present Improvised performance within a contemporary context in Amsterdam and, as the work developed, internationally.
Several of the founding group members were lecturers or former students at the school for new dance development (SNDO). The School had a rich history in the study and practice of improvisation with specific connections to the American Judson Church movement but the work was largely isolated within a community of dancers specializing in contact improvisation and improvisation methods. In Amsterdam, within the larger context of contemporary dance, improvised performance as an explicit choreographic approach was underdeveloped. The founding members of MAGPIE wanted to develop the work in a contemporary context and re-look at improvised performance as a fundamental choreographic approach to a live event.
---
Timeline
From 1995 to 2000 the MAGPIE artists practiced privately in rehearsal studios and publicly in performances. With Katie Duck as the main project co-ordinate, MAGPIE presented a monthly series in their Amsterdam base at the Fijnhout Theater, Melkweg theatre, Panama and OT301 cultural center. They also did extensive tours during this time in national and international programs and festivals, exposing the work to a broad range of cultures, viewers and contexts. Every performance combined different artists from the MAGPIE collective of artists with Ellen Knops as light designer in each situation.
From 2000-2005 MAGPIE toured nationally with publicly funded projects around themes related to collectivity, site specific performance and public interaction: Fingers in the pie / PI-PIED / BLINK / and Magnamedia. In 2005 they celebrated 10 years of performing nationally and internationally with the 10 years in a blink festival which took place at the Bimhuis and OT301 cultural center Amsterdam and gathered together all MAGPIE artists, guests and friends as well as other key practitioners in the field of improvisation.
---
Methodology
The original MAGPIE (1995-2005) used methodologies in rehearsals that supported how they could execute a performance with musicians and dancers that was improvised and yet appeared to be set in time and space. The original aim, to re-look at improvised performance as a fundamental choreographic approach to a live event, had been achieved. As the MAGPIE company became more efficient in how they could do every performance "as if it were not improvised", the critical aim seemed to have been accomplished however, for Katie it began to weaken as a criteria for the creation of a performance.
---
Conclusion
MAGPIE folded in 2005 as a performance company. Katie transformed (Stichting) MAGPIE into an umbrella company to continue the educational wing (workshops) and to support the younger artists who participated in their apprentice program.
New Initiatives
Summer Course
Katie initiated the Improvisation Summer Course in 2009. Her intention, with these projects, was to allow for time to pass so that the reputation of MAGPIE as an improvisation company could be transformed into a statement in action that took place in Amsterdam from the mid 90's to 2005 that influenced young artist to study, create community, and take risks. Amsterdam has a thriving community of dancers, performers and musicians and makers of all ages and types who gather regularly in projects, workshops, sessions and events in support of each others careers with an aim to keep the the focus off passing trends with public funding but rather show, practice, study and create the WORK.
Posters MAGPIE by Isabelle Vieger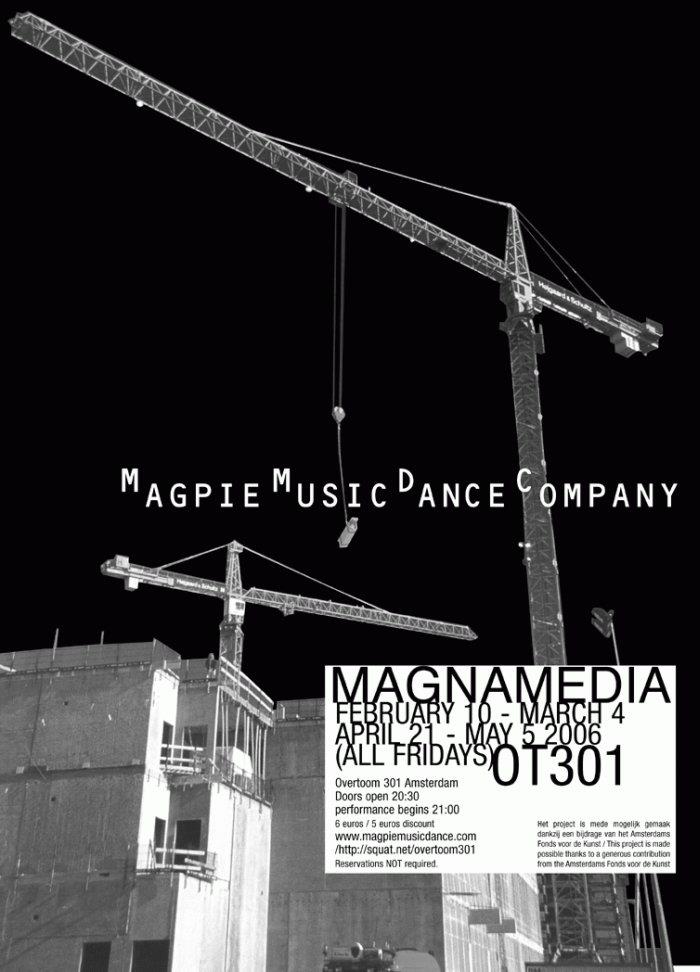 ---